All you need to know about me, and what devious plans I'm up to.
Who are you, Webmistress?
 My name is Helen, I'm 19, and I like Alan Rickman too much.
You sound like the coolest person alive. Tell me more.
 I am an Asian American girl, I live in California, I go to college in New Jersey, and once again, I like Rickman too much. I wish I lived in Britain, attended RADA, and was Alan Rickman's sex slave.
Wow. So, because of your utterly charming personality and great taste in men, I bet all your friends are dying to be like you, right?
 Alas, wrong. None of my friends like Alan Rickman, as much as I try to convince them to, and they think I'm a nutcase.
I'm sure you have other interests other than Alan, though.
 True, true. Let's talk about music. Musically, outside of Alan Rickman's occasional singing, I like David Bowie, Outkast, The Roots, Bjork, Bach, Heather Headley, various different musicals, Nickelback, Jason Mraz, Hans Zimmer, Savage Garden, Sarah McLachlan, Rob Dougan, TLC, Erykah Badu, and Eminem.
Um... wait, you just included Alan Rickman, Eminem and the word "like" in the same sentence together. That is blasphemy, I tell you, pure blasphemy. What the hell is wrong with you?
 You actually think I'm sane? Why would I have this site if I'm sane?
Uh, all right. Well, which other actors and actresses do you like, then?
 Harrison Ford, Desmond Harrington, David Duchovny, Norman Reedus, Liam Neeson, Colin Firth, Johnny Depp, Keanu Reeves, David Spade, Orlando Bloom, Cate Blanchett, Ralph Fiennes, Sean Bean, Kate Winslet, Ewan McGregor, Craig Parker, Jonathan Rhys Meyers, Laura San Giacomo, Kyle MacLachlan, Andy Griffith, Bela Lugosi, Gabriel Byrne, Hugh Grant, Natalie Portman, Jude Law, Ashley Judd, the list is endless and ever growing.
You don't have a life, do you?
 Haha. Not really, no. However, I did go to a Bowie concert recently, and that was pretty lifelike and cool.
Planning to take over the world anytime soon?
 Yes. I am currently an activist in Amnesty International. Okay, seriously now, please click the link and see what you can do to help with human rights.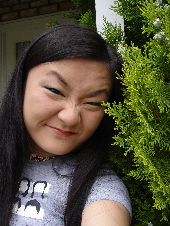 This is me! Notice the subtle smile and gentle expression upon my face as I attempt to convey the complete innocence of my being.